How To Properly Load A Trailer
First things first check your Manufacturer's Tow Vehicle Ratings. Manufacturers' tow vehicle ratings address tongue weight as well as the individual, combined, and fully loaded weights at which a tow vehicle can safely tow a trailer:
The amount the tow vehicle may weigh when fully loaded, or gross vehicle weight rating (GVWR).
Weight a vehicle can tow. This figure may vary depending on the vehicle's equipment, such as a manual or automatic transmission and whether the vehicle is equipped with four-wheel drive.
The permissible combined weight of the tow vehicle, trailer, passengers, equipment, fuel, etc., that the vehicle can handle, or gross combination weight rating (GCWR).
The weight of a single axle can carry, or gross axle weight rating (GAWR).
Trailer Loading Tips: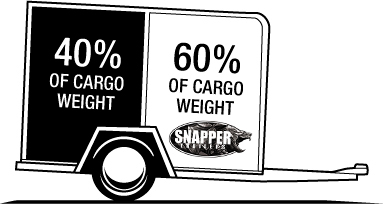 Load your trailer heavier in front.
The trailer should have about 60% of the cargo weight in front and 40% in the back (See Graphic).
Secure your load to the trailer using ropes or tie downs to ensure the cargo doesn't shift.
The Snapper Trailers Safety Disclaimer can be viewed here