A brake controller is an aftermarket / OEM installed device and or module. It is usually mounted to the tow vehicle's driver's side dashboard which engages a trailer's electrical braking system.  This process is either time delayed or in proportion to the towing vehicles braking system when slowing down or coming to a complete halt. A brake controller is not needed in conjunction to the trailer, however, it will decrease the dependency on the brakes of the towing vehicle making it safer and more cost efficient since the axles braking system has fewer components to that of what you would find on a typical car, truck or SUV braking system.
Brake controllers will generally adjust through a +/- gain adjustment. The tow vehicle operator would set the gain as high as possible before the trailer brakes lock up after a few test stops and before they engage the typical stop and go traffic or enter the highway. The heavier the trailer the higher the adjustment would be set making there less of a chance that the wheels on the trailer would lock-up.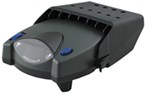 Proportion Brake Controller
Pros
Smooth, quick braking
Less wear on both vehicle and trailer brakes
Increased braking efficiency
Cons
More expensive than time-delayed controllers (though the cost difference between the 2 types has been decreasing)
Not as easy to install as a time-delayed controller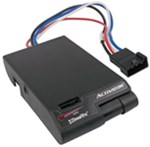 Time-Delayed Brake Controllers
Pros
Relatively Easy to install – can be mounted at any angle
User-friendly
Low profile
Cons
Uneven brake wear between the tow vehicle and trailer
Chance of brake pulsing when hazard flashers are used
Snapper Trailers has a wide range of trailers with many different axle options with or without brakes. We are also well versed in installing brake controllers at our lot locations no matter what type of vehicle you'll be towing your vehicle with. If you have questions, concerns or would like to inquire about our services call or submit the form below. Thank you!
The Snapper Trailers Safety Disclaimer can be viewed here